That's how long it's taken me to see the
Cattle Egret
that is on patch at the moment. I really must try harder! The
Cattle Egret
was originally found by Phil last Saturday when I was still on Scilly. It was seen again on Sunday afternoon, but for some reason my phone had decided that I didn't actually want to get any of my text messages when they were actually sent and so I didn't find out about it until it was almost dark. I wasn't unduly worried because we've had plenty of them on patch before but I
was
highly gripped to find out that there was also a drake
Mandarin
on Lower Bruckland Ponds, a bird I still 'needed' for my patch list. I went straight over there first thing in the morning but to no avail.... I still 'need' it :-(
The
Cattle Egret
as been seen on Colyford Marsh and Bridge Marsh periodically all week but not by me, even though I've stopped to look on every occasion that I've passed by. So when I got a text from Ian M this morning saying that it was showing on Bridge Marsh I didn't want to miss the opportunity and went straight over there. Unfortunately when I pulled in at the gateway alongside Bridge Marsh the herd of friendly bullocks thought I was there to feed them. The resultant stampede towards me made seeing the
Egret
a little bit tricky! I moved the car to another gateway and walked back but then the bullocks were afraid of my scope and ran the other way (I'm glad the farmer didn't see me harassing his cattle). I managed to get a few shots but the bird was always pretty distant and also quite mobile due to being bullied by
Black-headed Gulls
. What a wuss! While watching the
Cattle Egret
it was lovely to meet Sue from
Exmouth Birder
for the first time.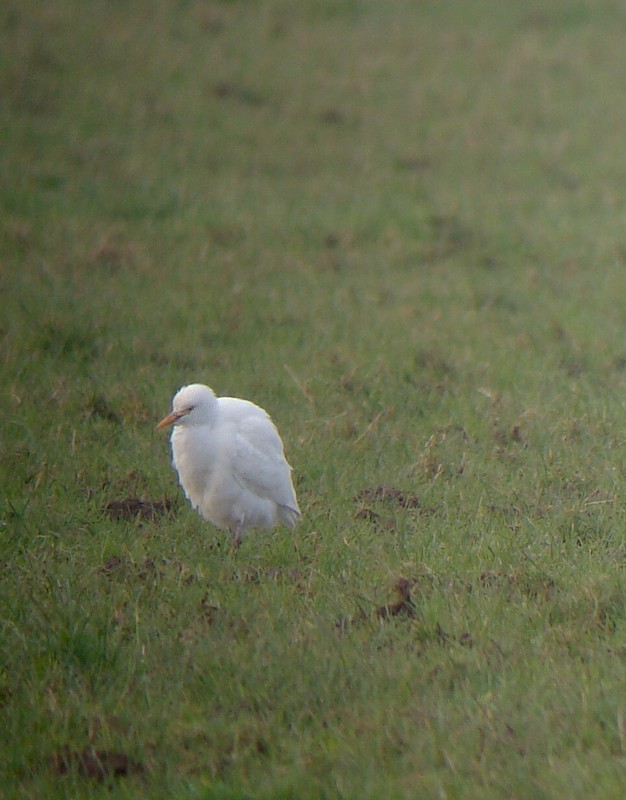 A Narrow Escape!
This afternoon I took my first ever photos of a Jay. One has been visiting our garden for a couple of weeks now and I've had some superb views through the kitchen window but haven't been able to catch it on camera because it always notices me opening the door to try and get a shot. They are such wary birds! Today I finally managed to sneak the back door open just enough to poke the lens out. The Jay was a fair way up the lawn nosing around looking for stuff the squirrels have buried. Poor squirrels do all the work and the Jay snaffles up the lot.
What a Beauty!
Finally here's a couple of arty-farty storm cloud shots I took from the beach a couple of days ago, the storms were miles out in the channel fortunately!
This picture makes me think of Johnathan Livingston Seagull.